Within the Student Open Innovation Lab project developed in partnership with Birmingham City University (UK) and Polycular (AT), Romanian students from the Faculty of Architecture, Spiru Haret University, went through user-centered design processes to develop solutions that improve quality of life in urban areas for people with disabilities.
After a workshop with the Urban Mobility Club organized by AMAIS and urban design sessions with BAZA, students developed two prototypes: an accessible bench and a navigation project for people with various abilities, to avoid obstacles such as sidewalks, pillars, parked cars.
Accessible bench
The accessible bench prototype was conceived as an outdoor working and relaxing space for people with multiple abilities. It also aims to encourage those with different abilities to spend time outside and reclaim their right to the city. The prototype was conceived based on the contextual understanding of the urban mobility challenges for those with reduced mobility (visually impaired, wheelchair users) during observation and empathy exercises on Mihai Eminescu Street in Bucharest during the first innovation lab. The bench offers a shaded and safe space from traffic (the nest-like higher side of the bench faces the street traffic). The project was implemented in November 2019 – January 2020 with the support of the NOD Makerspace in Bucharest and will be placed outdoor in spring of 2020.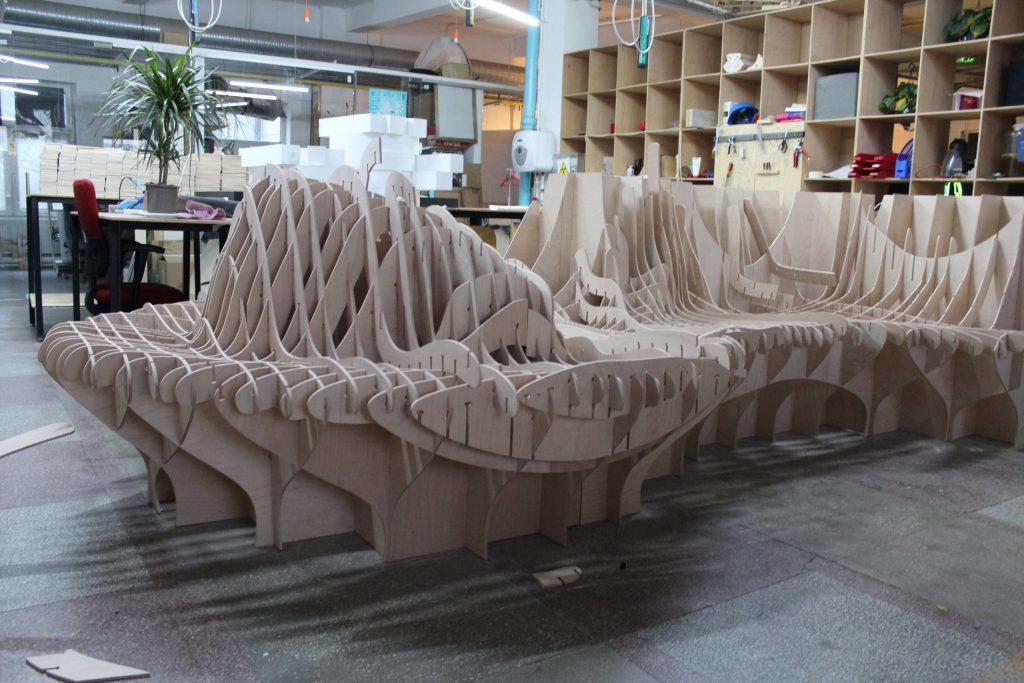 Label IT
Label IT aims to label the city by placing small, easily programmable devices based on the Arduino platform. Being affordable, anyone can place them where they think a "label" is needed. The devices are transmitting a unique identification code via BLE, RFID or NFC, becoming in this way DYI beacons. The devices can be easily mounted on traffic signs, traffic lights, public transport stations, buses, etc. Their IDs are entered in a database that can be edited online. An app interprets the ID of the devices and provides specific information to drivers, tourists and diverse-abled users. An initial prototype was developed during the Innovation Lab in Birmingham.